Direct injection GC-MS
The sample is usually dissolved in a solvent such as hexane or heptane to remove asphaltenes before injection into the GC so the technique will show the profile of the fuel from about octane (C8) to between C35-C50 dependent on the instrument set-up and what reference samples have been analysed to confirm the boiling range. Lighter components (than octane) will be hidden in the solvent peak. Information derived from this method is very dependent on both GC and MS conditions. Various standard methods are available for characterisation of certain known fuel components which would not be readily detected e.g. ASTM D5739, used for identification of oil spills.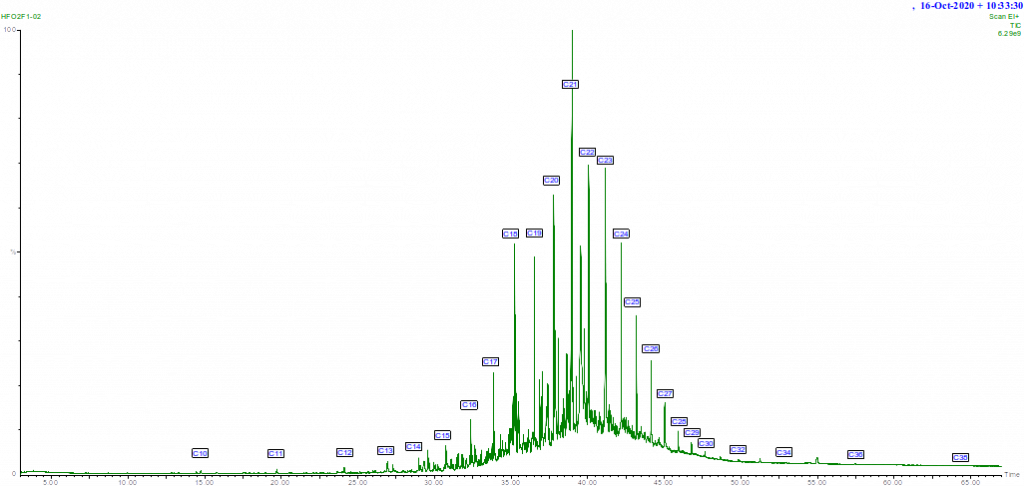 From the GC-MS chromatogram we can see the approximate boiling range of the volatile hydrocarbons, in this case between C10 and C38 n-alkanes.
Selective ion monitoring can give more information:


All aromatic compounds can't be looked at with a single set of single ions, and the approximate retention times need to be known in order to identify them properly as shown in the chromatograms above.

Some contaminants can be detected e.g. Fatty Acid Methyl Esters (FAME) without derivatisation, while carboxylic acids at low levels may need to be derivatised to be seen if direct injection GC-MS is used.
Analysis of polar components of fuels, such as phenols, acids, nitrogen-containing compounds and oxygen-containing compounds will be covered in the next article.