Detection and identification of accelerants in fire debris.
We are able to look for traces of common accelerants (petrol, white spirit, kerosene) in the remaining debris from domestic and industrial fires. Insurance investigators provide us with samples from the scene of the fire which must be placed in relatively impermeable nylon bags as well as  employing a Swan Neck closure technique.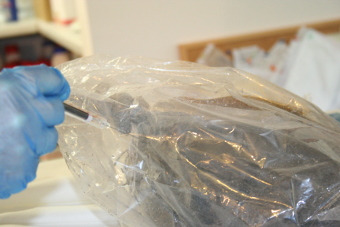 Detection of 'self-heating' oils in fire debris and laundry
We can identify self-heating oils in fire debris and laundry. Insurance investigators use our service and we can often provide a rapid turnaround time.
Detection of smoke taint chemicals and PAHs
We can determine evidence that there has been exposure to smoke in a variety of materials such as grains, grain derivatives, vegetables and clothing. Typically this results in contamination by characteristic phenolic compounds related to smoke taint and polycylic aromatic hydrocarbons.
For more background on fire analysis see Wikipedia article
Please contact us for a specific quote for any of these analysis.